Cathedral of the northern lights
The building
Alta Church is located approx. 500 km north of the Arctic Circle. It was a clear wish of the Alta City Council that the church should be an architectural landmark from which one could see the Northern Lights phenomenon. The high bell tower reaches 47 meters above the ground and, together with the rest of the church, must reflect the northern lights during winter periods when it is or is very dark in the city. To achieve this reflection, the church is plated in titanium.
Choice of floor solution
HØRNING's brick floor, like chairs and moldings, is made of oak. This contributes to the desire for a warm atmosphere and of course good acoustics. Our brick floors are made of end wood floors, which in particular makes them suitable for a floor with a heavy load and a lot of traffic.
Photo: Schmidt Hammer Lassen Architects
Name of Project
Cathedral of The Nothern Lights
Architect
Schmidt Hammer Lassen

NB:The images of wood types are not grading images
Learn more about Hørning and the world around us in words and images.
Here you can find the latest news and stories about dedicated individuals.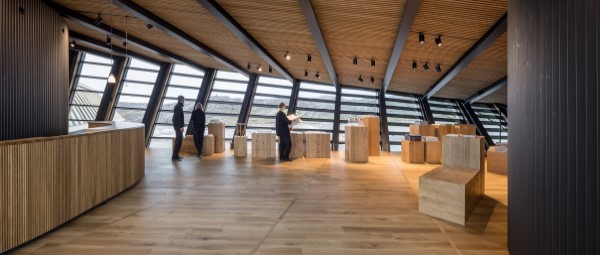 A visitor centre at the icefjord in Ilulissat, Greenland, facilitates the development of the area and Ilulissat as a destination. The centre conveys the spectacular UNESCO-protected nature, its history, and…
Read more