Boulevard Theatre Restaurant Bar
The building
The first 'Boulevard Theater' started as a sister venue for 'The Raymond Revuebar'. The venues were run under the same name and offered an additional bar and restaurant facilities next to gaming tables.
Later it became an independent theater, known as 'Elle et Lui' theater. Due to the great similarity in the genre of shows and competition that 'Elle et Lui Theater created for Revuebar and Windmill Theaters, the theater was closed down and then reopened as Boulevard Theater, which established a separate entrance and made it independent.
Choice of floor solution
SODA Architects wanted a solid oak floor, Chevron from a supplier with extensive experience and knowledge. Chevron is also known as the classic French herringbone, which is why it is used to advantage in larger, extraordinary rooms. In this case, the customer needed a unique floor that fit into the function and history of the building. For this, a beautiful brass strip was specially designed in the floor itself.
Name of Project
Boulevard Theatre Restaurant Bar
Architect
Soda London Studio
Product
Solid Oak Floor, Chevron

NB:The images of wood types are not grading images
Learn more about Hørning and the world around us in words and images.
Here you can find the latest news and stories about dedicated individuals.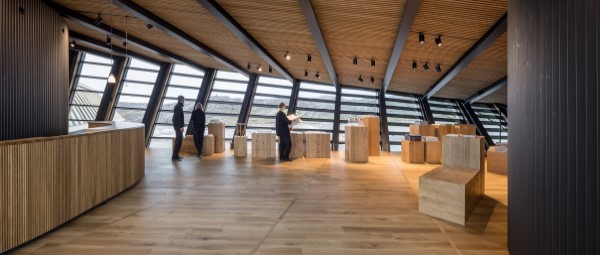 A visitor centre at the icefjord in Ilulissat, Greenland, facilitates the development of the area and Ilulissat as a destination. The centre conveys the spectacular UNESCO-protected nature, its history, and…
Read more