Dedication – For the love of the craft
From humble beginnings in 1929, Hørning Floor Founder Jens Magnus Jensen was determined to make his mark on the world with a true dedication to quality. This laid the foundation stone for what still embodies Hørning Floor today: a steadfast belief in craftsmanship above all.
Development of first-class wooden floors
However, the tools required to deliver that kind of quality was simply not invented yet, so J.M. Jensen took upon himself to do so in close cooperation with Hørning Floor's first foreman, Kai Schou, who was just as driven as his boss to deliver on the promise of superior quality.  After choosing the right craftsmen and the right raw materials J. M. Jensen was ready to show the world what superior wooden floors look like.
"I am proud to be a co-owner of Hørning. The company has a fantastic brand in the industry and more importantly, the company has an experienced, dedicated and committed staff. It is clear that they are passionate about the company and that they are driven by maintaining and continuing the craftsmanship traditions that Hørning Floor is built upon throughout the company's 90-year history. Every day everyone works to maintain our strong name and to serve our customers well." – Henrik Bentsen, Member of the Board and co-owner at Hørning Floor
90 years later the quality stays the same
The factors that made J. M. Jensen and Hørning Floor a success remain as crucial today as back in 1929. That's why, today, our flooring solutions are delivered with the smallest tolerances on the market.
Some of our greatest assignments the past 90 years:
Aarhus Town hall, Aarhus (1937)
The National Bank of Denmark, Copenhagen (1971)
The National Museum of Madrid (1990)
Bestseller Headquarters, Aarhus (2015)
Malmö Live, Malmö (2015)
Transport of London, London (2017)
National Museum of Oslo, Oslo (2019)
Ferring Headquarters, Copenhagen (2020)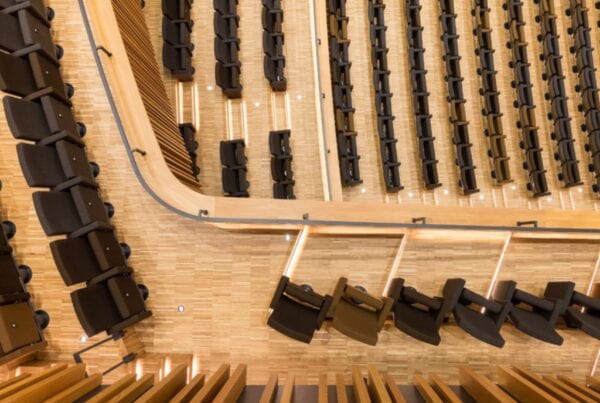 Hørning Parket expands the Solid Line product Hørning Parket performs unique and tailor-made solutions, and has over time built up a broad portfolio, which now welcomes a new dimension within…
Read more